Graduation Party Time !
What are the ingredients for a perfect Graduation? – all our wonderful participants of course!
But you can't arrive at a party empty-handed !
Flowers, drinks, food, cards, messages, chocolates, music, songs, surprise gifts are all welcome !
(especially chocolates for me !)
So let's get creative. Share your virtual present with the group!
Dear ICT4ELT 2014! Let's celebrate our first year of completion and graduation! Here is my celebration with the great food pictures! Larisa
From Ali Moroccan tea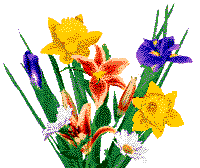 Dear moderators and participants, thank you for this fabulous session. These flowers are for you. Maria Rita
Thanks! Michela
Thanks a lot! Olfa
Fumiko Oginuma: I was not a positive participant in the sessions, but this is my acknowledgement for every other participants. Thank you.